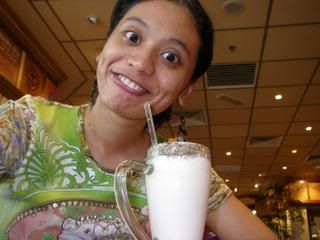 meet my other friend from a levels, iwan-g. our seniors nobat-ed her the perempuan gila 1 title, i was only able to secure perempuan gila 2 title. tsk! yesterday, i foolishly decided to forgo my presumably last chance to meet in person the love of my life, farish a noor, before 08.08.08 comes waltzing in just to spend a lousy afternoon goofing around klcc together gether with iwan-g. like anything's going to happen on 08.08.08. (
please gather every single mattresses available in kl around the klcc twin tower, i feel like jumping off them this instance, because of the former statement ok not the latter
)
i was fashionably early, in denial of how chronic a nerd i truly am, i tiptoed quietly into kinokuniya, while imagining that i'm hiding inside harry potter's cloak. (
ye lah! dah jalan sorang2 kene laa pasang imagination to teman me
) surprisingly, iwan-g correctly guessed where i was hiding + went pouncing on me. (
note to self: must stop being too predictable
) i was then contemplating if i should throw away rm 34.95 for a copy of "the book of laughter and forgetting" by milan kundera. iwan-g took the book off my hand and went; i know + you know you don't need that book. (
yes! cik pms i took that literally as well, i get to save my rm 34.95. yey!
)
she doesn't use the internet recreationally, in plain english, she doesn't read my blog. the motive behind this statement is to tell you peeps that because she doesn't read my blog + i'm crap at keeping in touch, i was left with the tedious task of updating her with the happenings in my life + vice versa. at one point of my narration she went, since when did you become a coward?
oii! cowards are necessary laa,
for without them courage would soon erode into a trivial, monotonous grind admired by no one
. ha! tau takoot. :op
so that's our iwan-g, though she's 99.99999% kurang siuman still we love her long time.
anyways, tonite i'm watching "brick". muz warned this orang tua (
that's what he calls me, spootid boy! no duit raya for you ever! like ever!
) that "brick" is psycho-ish but let me see for myself how noir is this film noir. i might even tell you what i think, or not.
have a good week ahead!
baby boom, an update
for them jauh di perantauan + reads my blog, of sha2 + nik imran err nik dino (
apa nama dino eh?
), just forwarded by dyd. :o)