kehadapan adinda emi yang beraya jauh di perantauan, the family shouts hai + hoi to you. mama menyampuk, "yo emi! wassup?", seperti biasa mama's attempt to sound cool + blend in with us kids. :op
we balik taiping only after sembahyang sunat raya. we waited for wawan; his plane arrived from paris 45 minutes early, apparently they berlumba with an amsterdam plane. well, all malaysia airlines plane arrived early di pagi raya. everyday should be a raya. the traditional man in wawan insisted that he's driving to taiping despite having just arrived, so ya tak dapat berangan drift + fly this year. cheh!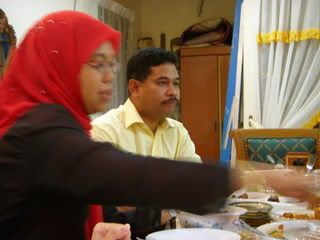 this raya marks ayah chik's first experimentation with bakar lemang, it was done at mak su's place though, he was successful. sedap gila ok! we ate like there's no tomorrow + tapau one batang lemang with us.
the traffic into taiping was real heavy; there were rows + rows of cars crawling to pass through the tollgate. there's two rows of cars aiming at this tollgate we're heading to, everyone was civilised enough to alternately move towards the tollgate. wawan let a kelisa go in front of us + expected to alternate behind the kelisa. a shortie woman driver behind the kelisa tried to rempit in front of us. if she were to move further ahead, she'll brush into our car; since she's short like mama she wouldn't notice (bapak's conspiracy theory). so bapak decided to wind down his window + went waving ayah chik's lemang singing "selamat hari raya". she went all white + stopped in her track, letting three cars behind us to potong her + tail us. if you hear that we're all in jail, it could be that she mistaken us for a road bully.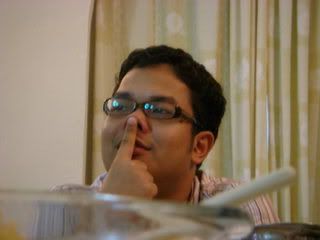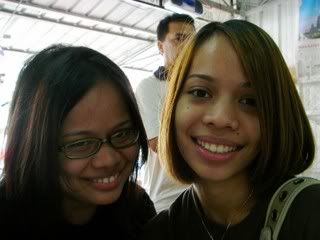 we didn't bother with baju raya too much this year but abang dan's garfield + sophie did. ok, they like to pose for the camera too. our fatty bom bom merajuk because he didn't get any baju raya from us (bapak's conspiracy theory), so we bought him a new collar.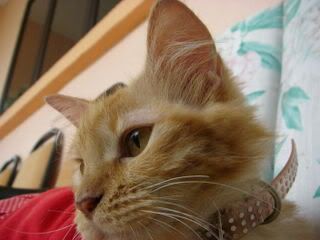 kucing nenek taiping is still around. we started to buat gossip that she's a kucing tiruan a.k.a. kucing jelmaan. apparently, our neighbour calls her manis. like, manis??? yucks!!! we, ita + ya, belek2 manis to find what's manis about her but to no avail. manis (yucks) defended rumah nenek from other cats like a fortress. fatty bom bom injured his nose in one of the fights. (sissy cat!)
at wan am's place, mama + wan la played one-two-juzz + lat-tali-lat-tali-tam-plong with farhana, ita + maziah policed the game, reprimanding cheaters. ita tak tahan, so she played as well. i don't know what the point of the game is but they were boisterous.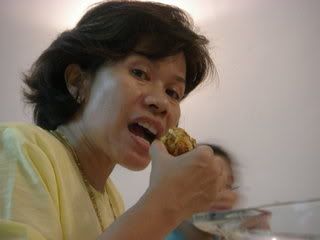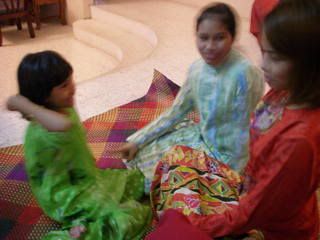 wawan accused me of wanting a set of the masak2 toys fatihah has for myself. hello, brader! now, look who is talking?
fatihah addressed ita + myself, "kakak". sabariah went all jealous + tried to sabotage. kak lin just laughed. both farhana + fatihah were fascinated by kak ita, since they haven't seen kak ita for a while. farhana asked, "who's older? kak ya or kak ita?" i quickly answered "saya". she went quiet for a bit + continued, "but you look old". ok that's it! i'm cornered into performing a drama minggu ini + this year i've been excused from giving out duit raya, thanks to farhana. realising my successful tactical drama, bapak + mama + ita went to my defence + because farhana wants a duit raya next year, we are all now officially younger than farhana. :op
(farhana)
meet sabariah's hubby, ehsan + their kid, adeeb. you're welcome to make adeeb cry anytime because he likes to cry + bapak would go "ciwek!", we find it funny.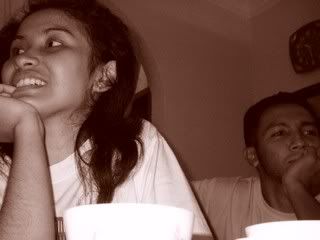 oh ya! we've been prakkkktissssing for your lens. sapa lagi supermodel? ya or ita … errr … or … errrr … mama? (sebook ok nak join us)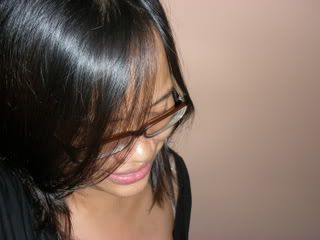 akhir kata, selamat hari raya, mana duit raya?

p.s. i like your "kepada yang mengenali saya dan juga yg tetiba tak mengenali saya...ingin juga saya memohon maaf jika ada salah dan silap" :op