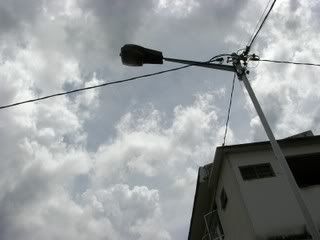 i hate it when they take my blood. apparently, i have low blood pressure/anaemic, so it'll take forever to fill the syringe. this morning, i had another round. lucky my veins are now back fat + juicy, otherwise they'll poke + miss + poke + miss + i'll end up with an ugly lebam. yucks!

you know, when you're young you think you're immortal, you're invincible. well, i did. i thought i was a superwoman. i though i was strong. i really pushed myself hard to the point my body couldn't take it, i went into a haemorrhage. i was still mentally ok then + i presumed it was my period, one of those heavy days, i went around running errands. four hours later i collapsed + realised i was haemorrhaging, excitedly submitted myself to the thought of experiencing my own er episode, i was a big fan then. hehe!

nobody knew i was in the hospital, not even my parents. but the ex factor found out + came crying next to my bed. a note to everyone: don't cry when visiting an unconscious person in the hospital! though i was unconscious, i could hear him cry + feel his tears, i panicked thinking i'm going to die. oh! he didn't know i knew. :op

anyways, the hospital wanted to do a 3 bag blood transfusion but my body rejected the o -ve, my chest went all tight, i had a hard time breathing. finally, they decided to put me on iron tablets. i was supposed to do a 3 months course + see my gp regularly, so that he could assess if i need to continue, change + stop my medication. after a month i felt fine + decided on my own to discontinue my iron tablets, business went as usual.

i guess now, my decision then is catching up with me. i'm now wiser to know i shouldn't ignore but manage.

y'all, learn from this as well: manage, don't ignore.

p.s. sapa o –ve sila donate blood to our blood bank, o –ve is rare + universal donor, preferred for babies + accident victims (kalo tak cukup amal, let our blood do the amal by saving people) but o -ve can only amek o –ve, right? cheh!



p.s. me emo reading stupe's letter on his blog to his ryan. go read!