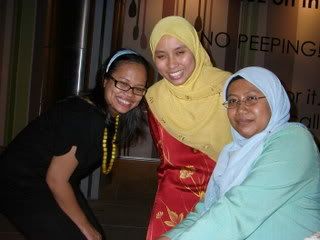 meet three former cleaner berjaya prudential manchester. yes! we were office cleaners before. we were so good, our work always get to be the reference for new cleaners. :op

but i'm glad i've worked as an office cleaner + kitchen porter before. apart from the exercise, like gila penat ok + tangan toned siot donch pray pray, i get a first hand experience of how condescending + arrogant people can be towards them holding a manial job like ours. only after we had small talks with their co-workers did they go all embarrased. (i don't want to hear, you people don't mind doing dirty jobs in the uk but when you come back you want to work in the office. you are definitely wrong. my friend, shazlan, graduated with a first class honours degree, secured a job in the uk. in his 6 months lepaking after graduation, before reporting for work, he was a barrista at klcc's coffee beans. in other words, just because they are behind the counter, be courteous spare your arrogance, you don't know who they are. and i'm now excited to be a flyers distributor for my friend, terasa macam student balik.)

we decided to meet for the last time before ima leaves for germany; she's got a job offer in germany. ima is berani that way, she came home to work in penang after she graduated from university, later she went to the usa, returned home to get married + worked in kl for a bit, got a job offer in singapore + now germany. she was headhunted.

two things about ima i'd carry with me til death do us part.

first, we are both from a totally different background, like serious lain, bagai langit dan bumi. under normal circumstances, with peeps in situation like ours, a gulf of misunderstanding could immediately open. instead of jumping to a conclusion about the other, shooting judgement, we took time to understand the words + language the other use. when i say we took time, we really took TIME. bak kata kundera, the longer you know a person, the more time spent with them, you'd begin to understand the words they use, "gradually, timorously, your vocabularies would have come together, like bashful lovers, and the music of one would have begun to intersect with the music of the other". i appreciate that from her.

second, she went all out to 'help' (in her definition) me when i was 'cornered'. yang itu, biarlah rahsia. ;o)

when were having dinner in klcc a few days ago, ima wondered out loud, why didn't we stay in the uk? gee went quiet. i thought i was stupid back then, i was in love, it took one phone call from the ex factor, for me to drop everything + take the first possible flight out. (what's the stupidest thing you've done for love?)

anyways ... ima, we wish you the best in germany. kalo rezeki murah, we'll come to squat at yours. (i still haven't bothered to find out what's the capital city of germany. anyone? yup, i'm in my bimbo moment.) otherwise, we see you when you balik bercuti.